Association Instruction
As an association we periodically offer introductory lessons for free on Saturday mornings after our drop-in play. Barry Leech is in charge of this instruction. Note: We are sorry but due to a high demand for classes our signup for 2022 is full. We plan to start the program in Spring of 2023. Please check back for updates on the proposed date and venue.
Barry's description of his lessons are:
The purpose of the new player sessions is twofold: First, to teach the rudiments to players unfamiliar with the game. Second, to give some tips to players beyond basic instruction, so they can become comfortable playing at drop in sessions.
Lets define WHO should be attending these sessions.
• Beginners – a beginner is someone who has NEVER played pickleball before. They are a clean slate, waiting to be taught the very basics of the game.
• Novices – a novice is someone who might have come to a lesson once or twice, but is not comfortable playing with others yet. Perhaps they can hit the ball, but they don't know anything about court position, and they don't understand scoring.
If you are interested in registering for these new player sessions, please use the following link and fill out the google form. Note: the link below will be restored in spring of 2023.
New Player Request Form
For intermediate and advance instruction, see the options below.
Any further questions regarding association instruction, please use the contact page.
Additional Instruction Options
Columbia Association periodically offers instruction. See their website for further information:
https://www.columbiaassociation.org/facilities/sports/tennis/tennis-programs-lessons/pickleball/
Howard County Recreation & Parks periodically offers instruction. See their website for further information:
https://www.howardcountymd.gov/pickleball
Local Instructors
The following are certified local instructors that our association is aware of in our area.
Sonny Tannan - HCPA Member | PPR Certified Professional | USAPA Ambassador
Sonny has been coaching and playing sports since his days in college. He transitioned from coaching as a tennis pro in various tennis club's, to Nike and eventually to the sport of pickleball. He is a Professional Pickleball Registry Certified Professional, a USA Pickleball Association Ambassador and currently instructs at the YMCA of Central Maryland in Howard County.
He welcomes every level of play to step on the court in order to learn something about their game and how to elevate it to the next level. If you have just begun to play the sport or are looking for competitive strategy and tactics for tournament level play, you will leave each lesson with at least 1 actionable item to improve your game. Feel free to reach out and connect with Sonny for a free 15 minute on the court analysis.
Marc F. Austin |
Professional Pickleball Registry ( PPR) Certified Professional Instructor/Coach |
Member, USAPA |
Member, HPCA
Professional Pickleball instructor, Marc F. Austin, has been teaching pickleball in Howard and surrounding counties for almost two years. During that short period of time he has successfully taught over 600 students alone in Howard County as the Lead Pickleball instructor for Howard County Recreation and Parks(HCRP). His achievements in teaching have rewarded him with a high honor of being a GAMMA International Instructional Writer. In 2021 he wrote four articles that GAMMA published on their international Blog that are free for anyone to enjoy.
He has also designed and delivered up to 10 specialized clinics focusing on specific important parts of the game. These clinics are unique in the sport and are offered through HCRP. He now offers six different progression oriented pickleball classes for anyone to participate in and enjoy from pure beginner to advanced and tournament players. Mr. Austin loves to teach pickleball and more importantly loves to meet new friends and experience those "ah ha moments" with his students. He regularly writes instructional articles for HCPA members which are published in the quarterly newsletter. His column is called "Pro Corner". He is always looking to work with both new and returning students as many students enjoy his advancement oriented teaching.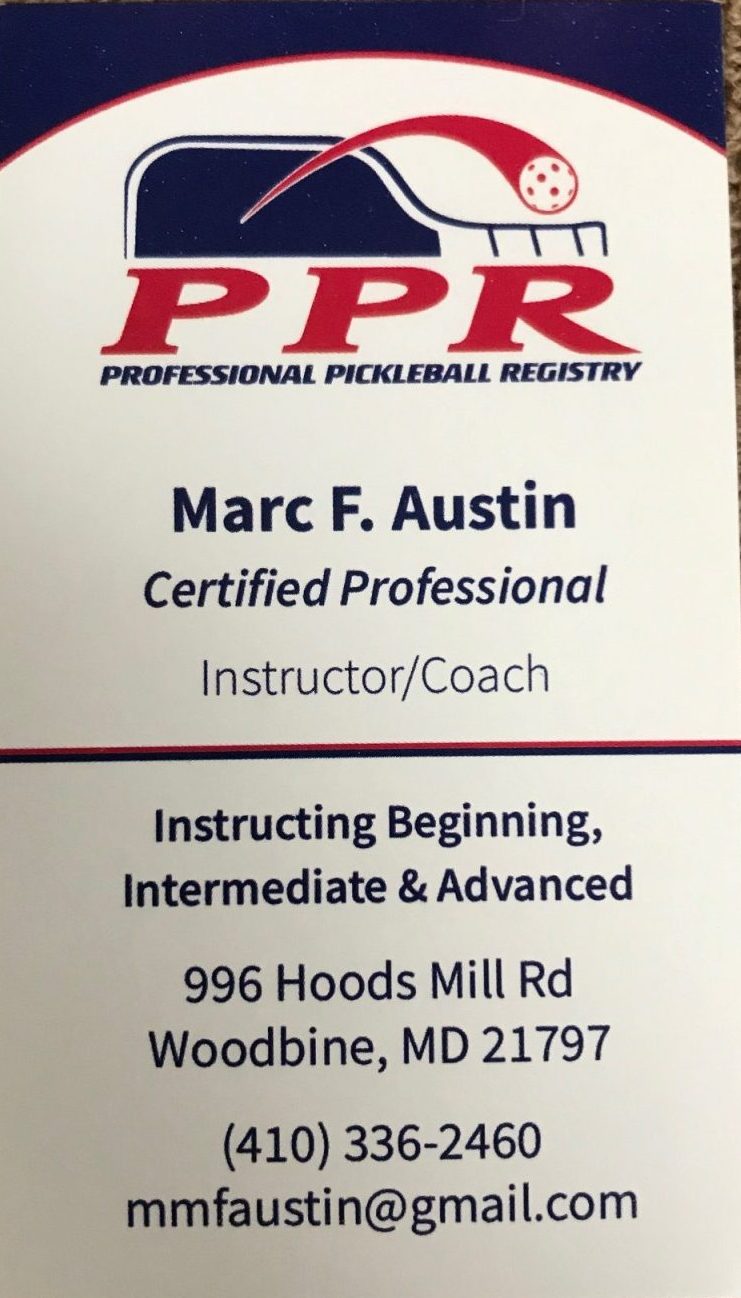 Note, it is not our intention to promote or recommend these instructors but merely to offer information to the pickleball community.